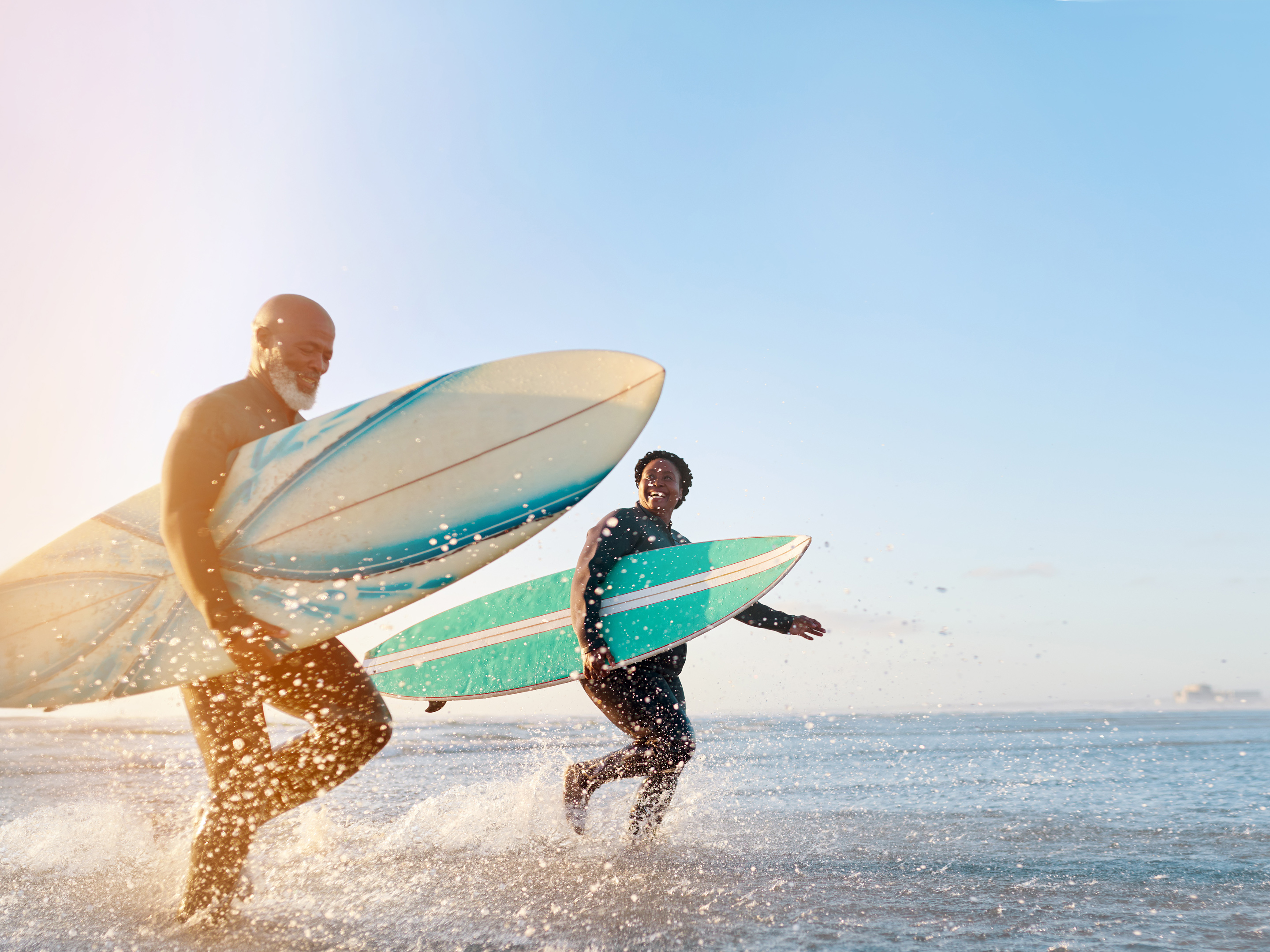 Make (and meet) your own miles challenge
As the current travel landscape is always changing, we recommend researching current travel advisories and referencing AA.com for most current routes and travel destinations. 
What's the deep-down travel dream you nurture? Taking every flight first class? Treating extended family to a vacation? Whatever it is, there's a fun way to get there: Give yourself a personal American Airlines AAdvantage® miles goal. Putting a focus on saving now can help you earn AAdvantage® miles faster, so you'll be ready to plan an adventure when the time is right. Here are four next-level options to help you earn. So get ready… get started… earn some miles! 
Goal: An upgrade to take you from state to state (15,000 miles)*
The key to saving is steady progress, and you can reap the rewards more quickly than you might think. In fact, just a few months of modest saving can earn enough miles for an upgrade or a plane ticket within the contiguous U.S. 
Miles goal: Start by saving a quick $5,000 and plan on depositing around $1,900 per month — or you can opt to invest the full amount up front to earn miles sooner.† Keep in mind that if you hold a $5,000 balance in a Bask Savings Account for 90 consecutive days within the first 120 days of opening your account, you'll receive a bonus of 1,000  AAdvantage® miles. 
Goal: A halfway-around-the-globe jaunt (60,000 miles)
Two weeks of backpacking Down Under? It's a great way to flip your seasons, cross the international date line and maybe snag a selfie (or just a close-up) with a wombat. Or, hop on a camel and explore the sand dunes of Morocco for a week when the airline begins flying to Casablanca in 2021. The bottom line is that 60,000 AAdvantage® miles can take you a lot of places, so that you can save your travel funds for the actual trip – not the travel. By ramping up your Bask Savings Account balance to $60,000, you'll earn 60,000 AAdvantage® miles — just what you need to go from the U.S. to many international destinations.*
Miles goal: If you're on the fast track to your next vacation, start with a fast-track deposit — $60,000 right away to earn miles within 12 months. Or you can build up your earnings over time. If you start with a deposit of $40,000, to reach your goal of 60,000 AAdvantage® miles you'll have to save an additional $4,000 a month for one year. (Remember, every dollar deposited is an AAdvantage® mile earned, annually.)†
Goal: A first-class ticket from one coast to the next (80,000 miles)
Whether you've set your sights on surfing the beaches of San Diego or you want to soak up the history on display in Washington, D.C.'s museums, a first-class domestic flight is a great way to get your sojourn started on the right foot.* 
Miles goal: A deposit of $80,000 will earn enough miles for this goal within 12 months, but short-term options can be put to work, too. If you deposit an initial lump sum of $50,000 and continue adding an additional $5,500 every month, you'll reach your AAdvantage® miles goal in just over a year.† 
Goal: Six U.S. trips, six travel goals, one year  (100,000 miles)
Everyone is planning for trips they'll (hopefully) take in the near future — to museums they want to visit, parks they want to hike or sports they want to cheer on live. Make up for lost time by scheduling a whole host of trips — all in the contiguous United States — with saved-up AAdvantage® miles. Six trips, or one every other month, would take about 100,000 AAdvantage® miles.* 
Miles goal: Next-level travel requires next-level miles goals. A big initial deposit — let's say $75,000 — helps you jump-start the move to that finish line. After that, switch to either a weekly or bi-weekly approach; the former will require $1,200 once a week and the latter $2,300 every other week.†
Get started on a personalized miles challenge 
The best way to start a miles challenge is to set some travel goals. Calculate possible miles for different scenarios with our online calculator, or if you're up for playing with numbers, do the miles math yourself. 
*Miles calculations are estimates and subject to change based on location, time of booking, time of year, class, stop preference, and carrier. 
‡A Bask Savings Account earns one American Airlines AAdvantage® mile per dollar deposited, annually. Miles are accrued on a daily basis and awarded based on average monthly balance. Amount is based on number of days in each month. Miles are awarded on or before the 5th business day of following month. You must link your AA account to earn miles.
The value of this bonus/offer will be reported to the IRS and the recipient is responsible for any federal, state or local taxes on this offer.
Bask Bank and BankDirect are divisions of Texas Capital Bank. Member FDIC. The sum of your total deposits with (i) Bask Bank; (ii) BankDirect; and (iii) Texas Capital Bank. are insured up to $250,000.  Additional coverage may be available depending on how your assets are held.
 
Build Savings, Earn Miles
Contact Us
Phone
Mon-Fri 7:00 AM - 7:00 PM CST
Sat 9:00 AM - 4:00 PM CST
Closed Sunday